Welcome to One of the Most Unique Uptown Denver Restaurants!
Just step into the world of Solutions Lounge and Restaurant in Five Points, Denver, and you'll find that our food and themed cocktails are every bit as interesting as our escape rooms and unique steampunk décor. Launched in 2017, we quickly became a local favorite among uptown Denver restaurants. We offer creative lunch and dinner items six days a week, plus happy hour drink and food specials on Tuesday through Friday from 3 to 6 p.m. Our lounge drink menu has themed and classic cocktails; mocktails; draft, can and bottle beer; and wine by the glass or bottle. All this comes together to make us one of the most fun and interesting restaurants in uptown Denver, and a perfect location to unwind after work or anytime.
Lunch and Dinner—Something for Everyone
Unlike some uptown Denver restaurants, we have full-service lunch and dinner options for meat-lovers, vegetarians, and vegans alike. Our lunch and dinner menus include a classic bacon burger, a French dip sandwich, a grilled gourmet ham and cheese sandwich, Caprese chicken and other sumptuous offerings. And for vegetarians or those who just want to eat on the lighter side, we have a cheese board, cheesy broccoli gratin, and a variety of delicious salads that are also vegan-friendly. Our specialty of the house, the Fromage a Raclette, which features melted cheese served over Hinman's baguettes, red potatoes and arugula, can be served with either roasted vegetables or cured meats. Whatever you choose, you'll find we elevate lunch and dinner above the ordinary.
And we know many people have limited time at lunch, so our goal is not only to offer creative menu options, but to serve them quickly. Join us for lunch and let us show you how we can give you a memorable experience while still allowing you to get back to the office on time.
Spectacular Desserts
Whether you want to end your meal with dessert or just gather for sweets after your game to celebrate your victory, we have some delicious options for you. Our warm apple pie comes with whipped cream and caramel sauce, and you can add cheddar cheese to it for a real treat. Or try our cheesecake with Key lime curd and lime sea salt, or our truly special chocolate peanut butter cake with peanut butter honey drizzle. And if you want something a little less sweet but just as decadent and satisfying, try our cheese board with raspberry pepper jam and rice crackers.
We Also Have One of the Coolest Bars in Uptown Denver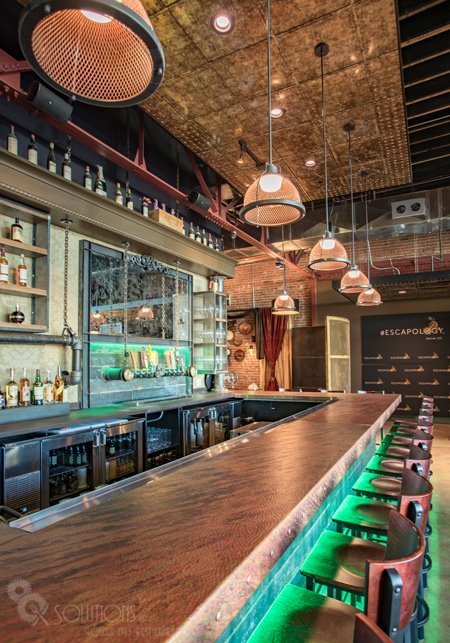 In addition to a large selection of wines and bottle beers, our bar has a rotating selection of eight craft beers on draft, many from Colorado. We also have a fun collection of signature cocktails and mocktails that complement each of our escape rooms. Have you and your group just mastered the Arizona Shootout game? Then celebrate with the Arizona Shootout cocktail, which contains Woody Creek rye, brandy, orgeat, and sarsaparilla. We also have a non-alcoholic mocktail version that contains orange juice and sarsaparilla. Each of our games has matching designer cocktails and mocktails, so you can still experience the fun of your game even when it's over. We also have happy hour from 3 to 6 p.m., Tuesday through Friday. Our happy hour menu contains drink specials and affordable snacks and sweets to go along with them. Hungry for a little more? We also offer our classic bacon burger and vegetarian Raclette for one, which includes a Hinman's baguette, red potatoes, arugula and some of the most delicious ooey-gooey cheese you've ever tasted. It's a very happy hour indeed.
Only the Best Ingredients
One of the reasons people love us is our focus on fresh and unique ingredients. We're proud to feature top quality bakery products from Hinman's Bakery, a Denver institution. And our cheese is sourced primarily from premier local providers, but we also import from countries known for their expertise in creating the finest cheeses, including Italy, France, Spain and Germany. This is important, because we pride ourselves on our unique and delicious cheese dishes, which are our house specialties.
So the next time you need to escape from the ordinary, think of us!
Sign up for email updates