We're Dedicated to Engaging Our Guests in Adventures of the Senses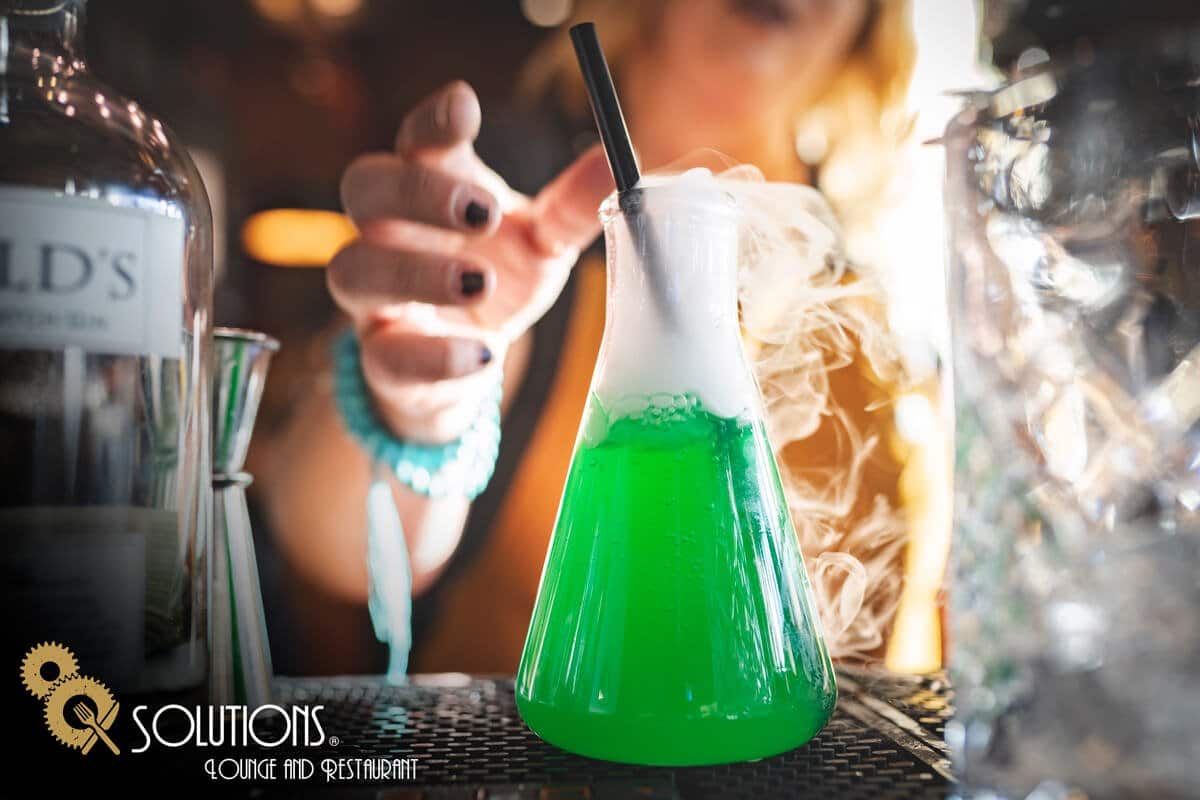 Solutions Lounge and Restaurant featuring Escapology®, at 22nd and California in the heart of Downtown, is Denver's first and only live-action escape room venue with a full restaurant and bar.
Devoted to elevating our guests' dining and gaming experiences to new levels, our 6,100 square foot space boasts seven themed escape rooms and a 3,500 square foot dining area and bar with a Neo-Victorian steampunk design. Our escape rooms and restaurant are open five days a week, serving lunch and dinner. Our desire is to inspire and entertain every person who visits.
Whether you're looking for a fun happy hour, an enthralling puzzle-solving adventure or just some eclectic people watching, Solutions Lounge & Restaurant featuring Escapology® provides a space for fellow adventurers to come together and escape the ordinary.
Escape rooms brought to you by Escapology®
Live action escape rooms have been sweeping the nation over the last few years, providing an environment that challenges participants to work together using teamwork and clear communication. The objective is to solve complex puzzles and problems in a closed-door and immersive environment and make an epic escape from the room before your 60 minutes runs out!
Imagine this: you're locked in a room with anywhere from two to eight people. There are clues, riddles and puzzles hidden throughout the room in clever places. A ghostly voice explains your task and mission ahead and announces that you have one hour to escape. A frenzy of panic erupts and people begin scouring the room for clues that will lead to the ultimate escape. Before you know it, your time will be coming to an end. Have you figured out the key?
Part game, part theater, part team-building exercise, an Escapology escape room is the best way for people to learn about each other and themselves while having a blast. Now is your chance to step into an adventure filled with mystery and intrigue that will be remembered for a lifetime.
To top off the experience, Solutions Lounge and Restaurant offers signature craft cocktails and mocktails that have been created to match the themes of each of our individual games. When you wrap up your adventure, you can head to the lounge and enjoy one of these escape room-inspired specialty drinks. Then, you can celebrate with your teammates over your recent success—or plot your revenge to conquer the next one.
Read What People Are Saying About Us!
What a great place! Fantastic steampunk decor. We started with lunch and the menu is simple but good. Service was attentive and friendly. Our games host was lovely, friendly and fun. We did the "Antidote" game, which was challenging but not exasperating or impossible. There were six of us, ages ranging from 15 to 50.
All in all a really fun afternoon, we had a great time, I would highly recommend it and I can't wait to return next time we are in Denver.
Top notch escape rooms with creative stories and fun puzzles. Great food and drinks too. We came here for a company outing and everyone loved it.
We escaped Antidote and had such a fun time! The puzzles and riddles in the room were unique compared to a lot of other rooms we've done. Plus, we had drinks before which were also awesome (not to mention the GORGEOUS steampunk decor). I mean, who can say no to a cocktail with tequila and prosecco? We will definitely be back – this is a must for escape room addicts!!